Chocolate salami – Salame di cioccolato
We have a delicious recipe to share with you today! Salame di cioccolato (literally "chocolate salami") is sweet, crunchy and full of chocolate, and it's one of our all-time favourites – Giordano's grandmother used to make it all the time! It's also one of the simplest dessert recipes in Italian cooking – you don't even need an oven for this one – so it's a dessert that that the whole family can make together (and everyone will be fighting to lick the mixing bowl afterwards!).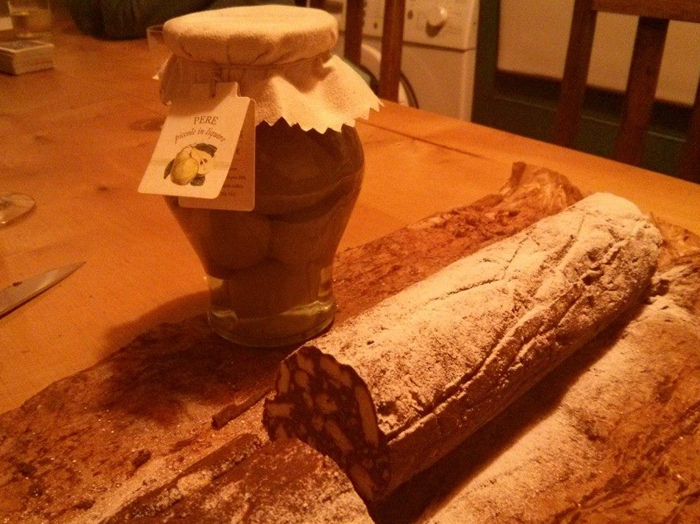 We recently served up this dessert on the Vanstaurant as a trio of dark, white and orange chocolate, and it was so popular that many of you wanted to know how to make it yourselves. Seriously, you won't believe how easy it is!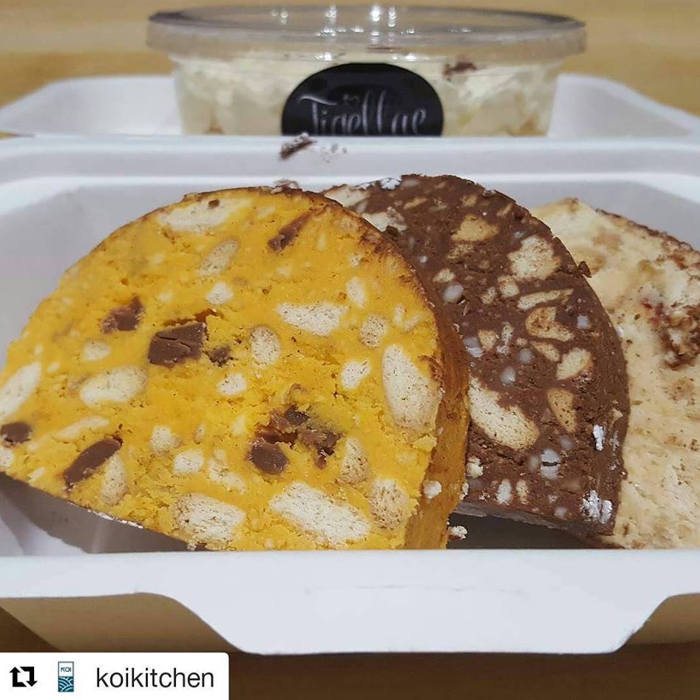 The traditional recipe for salame di cioccolato uses raw egg – for safety reasons we always use pasteurised liquid egg to make ours.
The full ingredients list is as follows:
– 200g dark chocolate
– 175g Rich Tea biscuits (we find these the most similar to the Italian biscotti generally used)
– 150g salted butter
– 150g sugar
– 2 eggs (or 100g pasteurised liquid egg)
– 10g Marsala wine (or orange juice for a non-alcoholic version)
First of all, finely chop the dark chocolate with a knife. Put it in a large metal (or glass) bowl over a boiling pan of water, making sure the bottom of the pan doesn't touch the water. This is called "bagnomaria" and will melt the chocolate gently. Once all the chocolate has melted, leave it on one side to cool.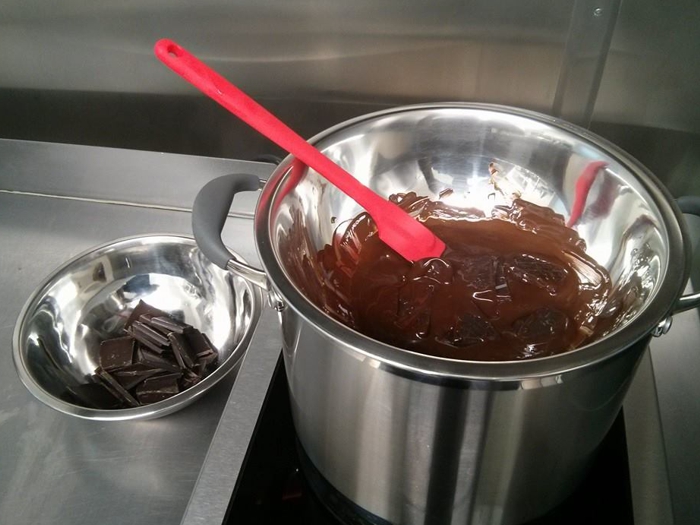 Cut the butter into chunks and mix it vigorously in another bowl with all the sugar. Add the Marsala wine.
Add the briefly beaten eggs to the mix and beat continuously until light and frothy. Pour in the melted chocolate once at room temperature.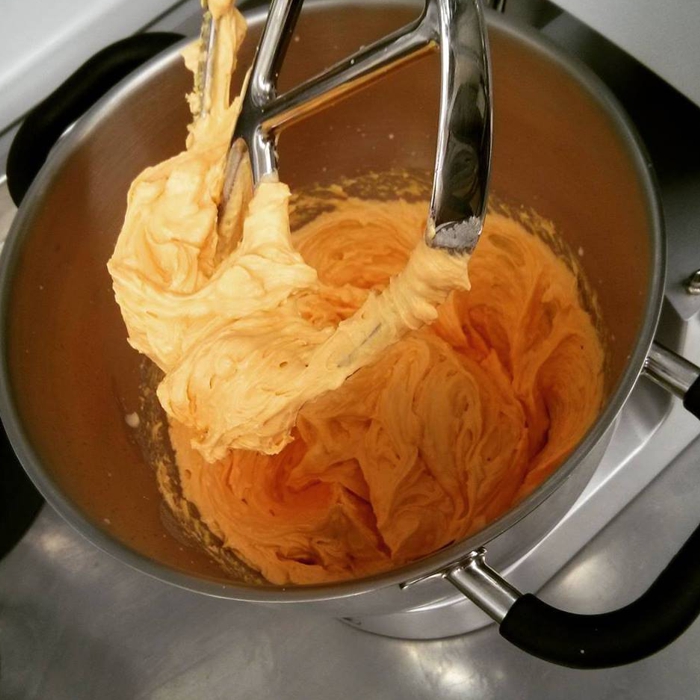 Keep stirring until everything is evenly mixed. Break the biscuits into pieces with your hands and add them to the mix.
Pour the mix onto a sheet of baking paper with a large spoon, evenly spreading it to form a sausage.
Lift the two sides and bring them to the centre to wrap the chocolate salami completely. Leave it to rest on a tray in the freezer for at least 6 hours.
Cut into slices, sprinkle with icing sugar and serve.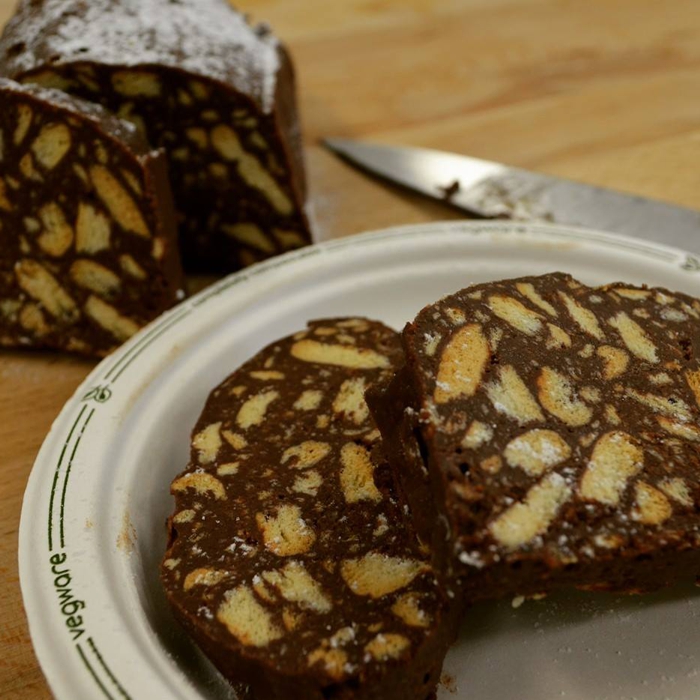 We're going to leave you with this photo of Giordano on the Vanstaurant with the full selection of chocolate salami! For our latest events, news and photos, make sure you're following our Facebook page.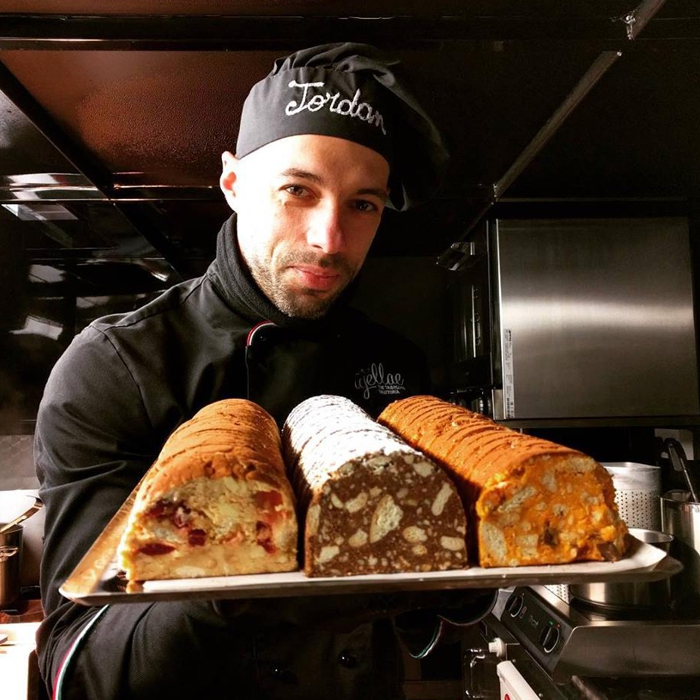 A presto!
Laura and Giordano