A fresh start – Our brand new mobile bar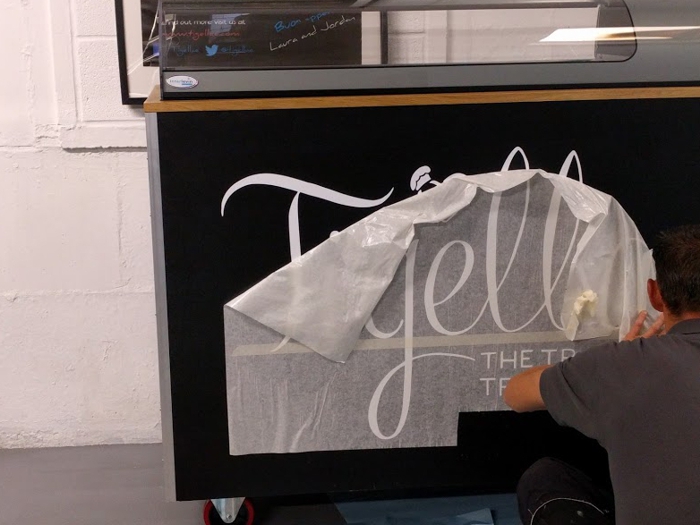 This year, we're branching out. We're getting serious about proper restaurant-quality food, lining up and taking part in some great events that we can't wait to tell you about, and putting the finishing touches to our latest project which will take centre stage in our everyday set-up. That's what we want to tell you about today.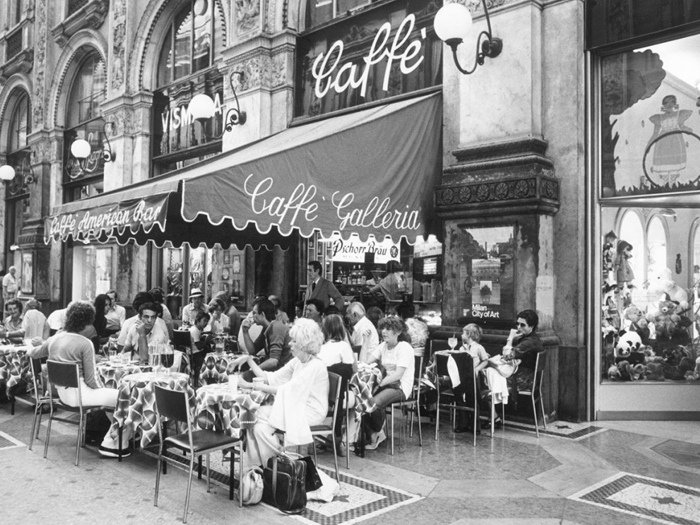 Have you ever been to an Italian bar? We've been to loads of them, and we love them. A relaxing atmosphere, a great group of friends, a whole array of snacks and some proper amazing food. Can you guess where we're going with this?
Meet the brand new addition to the Travelling Trattoria – our beautiful mobile bar!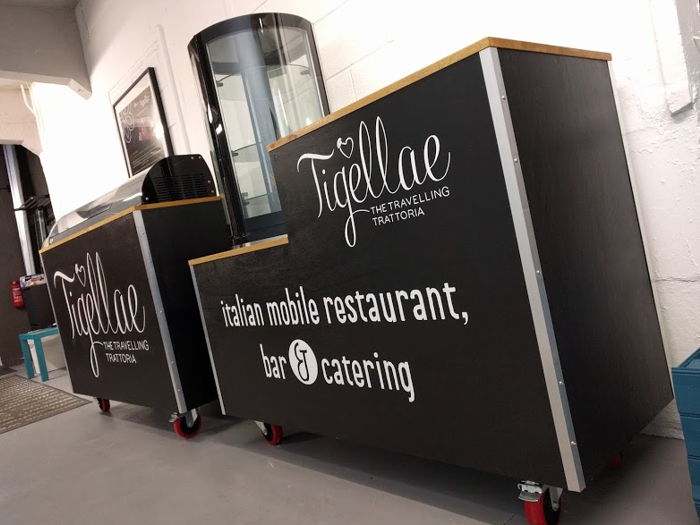 Designing a bespoke new feature of our Travelling Trattoria that would be in use every day was not a job we could do in an afternoon. We wanted it to fit both in front of the Vanstaurant and under our gazebo, and it needed to have a multitude of functions – we want you to see the food you're going to get, we want you to get excited about it, and we want to talk to you as you're getting excited about eating it!
To help us design and make the bar, we enlisted the help of Laura's dad, a fellow Italophile and a very experienced and talented carpenter. With his help, Giordano designed not one, but two separate bars, so we can choose the best set-up depending on the event.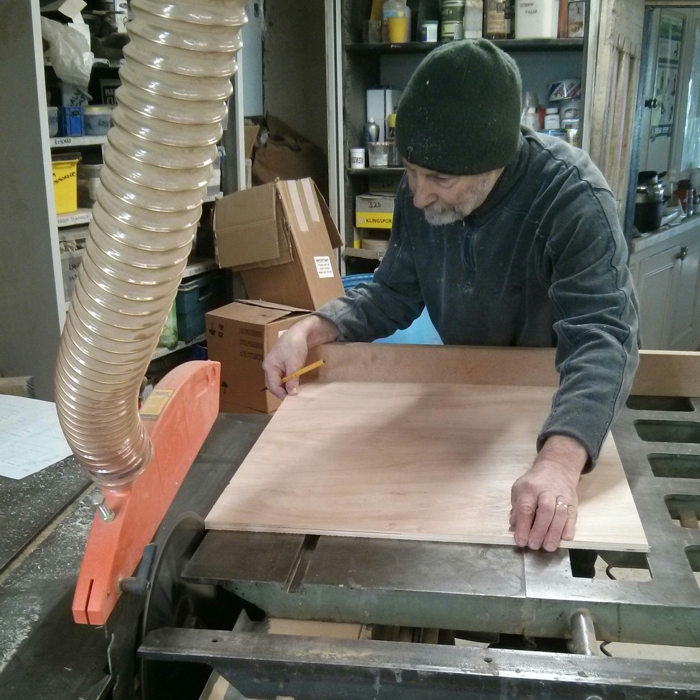 The first bar has a fridge underneath where we'll keep our wines nice and fresh, and a second display fridge on top where you'll be able to see exactly what we've got on offer when you come to visit us! It also has a sneaky detachable shelf for all manner of useful trinkets!
The second bar contains a tall, beautiful, round fridge where we'll store our desserts. If you love our tiramisù, you'll really love looking at this and deciding what to have for pudding!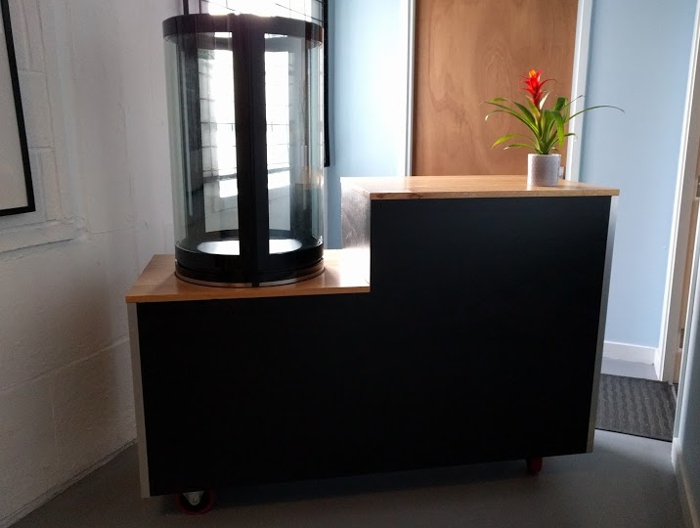 We put the bars together over at Jack Badger in Glossop. Giordano painted them black and fitted some red castors to the bases so they're easier to manoeuvre! We also spent a morning adding some silver brackets to the edges of each counter to protect them as we're taking them in and out of the Vanstaurant.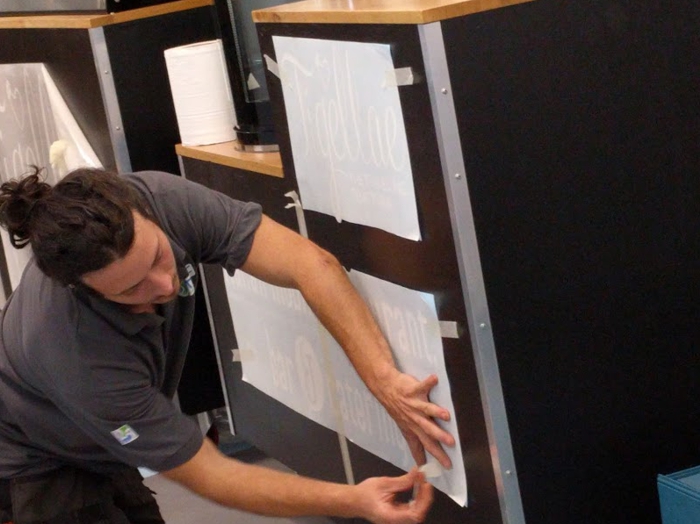 Finally, we fitted the fridges and shelves into each section of the bar and added the beautiful wooden counter tops, and we had a visit from the Manchester Sign Co. in Failsworth to add our logo to the two bars and make them look as amazing as our Vanstaurant!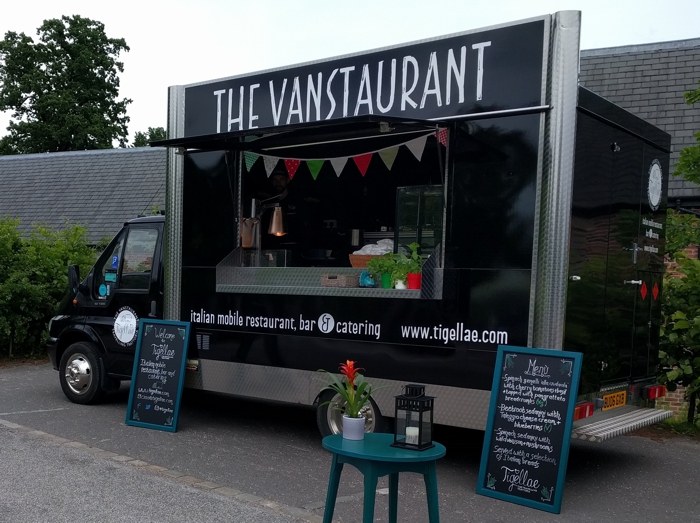 Look out for chief mobile barkeep Laura at a food fair near you in the not-too-distant future, or ask about hiring us for your next private event! Also, if you want to see the full journey of creating our mobile bar, from the first bits of wood to the finished product, just visit our Instagram page.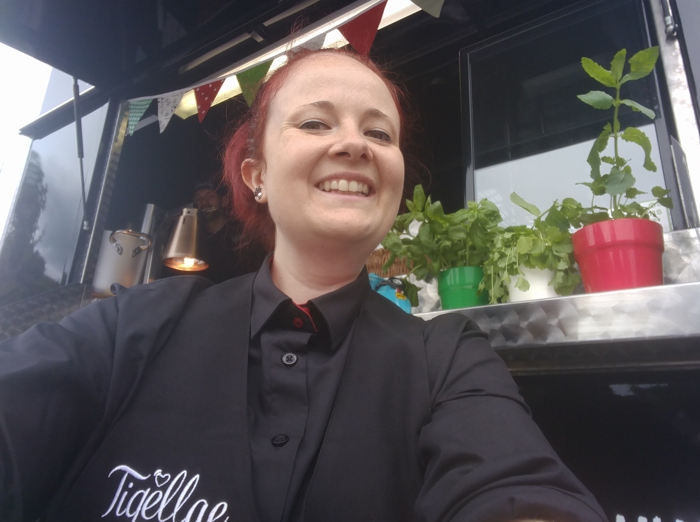 A presto!
Laura and Giordano